Presidents Quilt Challenge – 2019
Faith Jones –  Scrap Plus Quilt Along
Join us this year completing the Scrappy Plus Quilt.  Make it as big or small as you want and earn raffle tickets for it along the way.
Raffle tickets:
1 for each block completed
1 for when the top is completed
1 for when the quilt has been quilted
1 for when binding is completed
The idea is to use up some of those scraps we all have hanging around just waiting to be part of a masterpiece!   Use your blocks any which way you want to create your finished quilt.
Rules:
Make blocks!
Bring blocks to meeting and get tickets for a drawing at the end!
Receive a ticket for each block, a whole quilt top, quilting, and binding.
You can do as many blocks as you want – do a mini to hang on the wall, or a king!
Some of the 2019's President Challence have been showing up at Show and Share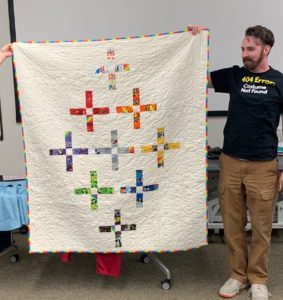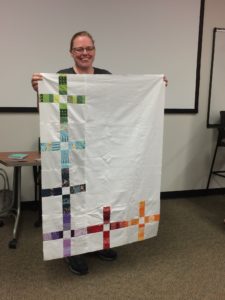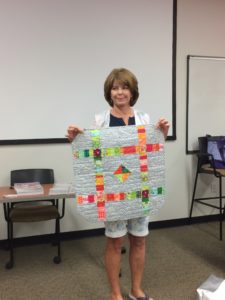 Here are a few photos from 2018's President Challenge. Scrappy Spool Block Quilts