September Recap
This month's meeting was all about the North Texas Quilt Festival and what a HUGE success our guild had!
To start off with membership, the size of our guild jumped to 67 total members! We also had 9 guests in attendance, many of which showed interest at our booth at the festival.
The festival was also a big success financially!  Making a profit is a big accomplishment for a quilt show, let alone our first ever quilt show. Our biggest success was the mini quilt auction. Guild members went above and beyond donating over 35 BEAUTIFUL mini quilts. The quality showed in that every mini quilt was sold for a premium at the festival and we made $1200 on mini quilts alone. Our journals sold very well at the festival and we still have some left to sell. The price on the journals is $10.
All of our success can be attributed to our wonderful members. They were amazing volunteers and were so flexible not knowing what to fully expect of their duties. We were blown away by the participation of not only volunteers, but guild quilts in the show and mini quilts at auction.
We are so happy with how well our guild members did, we are already gearing up for the next one! The 2018 Quilt Festival will be June 7-9. It will be here before we know it!
We also had an announcement of who won the 2017 Quiltcon charity quilt that was raffled at the festival. Our very own president, Jeanne Lobsinger! We are thrilled that the quilt is going to such a loving home (and that Jeanne bought so many tickets)! You can't tell she was excited at all!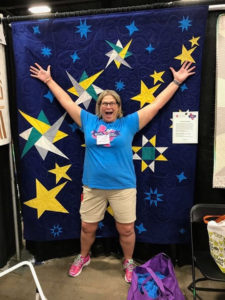 In finding our 2017 Charity Quilt a home, it is also time to start on the 2018 Charity Quilt! The theme this year is Modern Traditionalism. This means a modern reinterpretation of one or more traditional blocks or quilt designs using the 2018 color palette. We have decided to take the overall pattern of a traditional Baltimore Album quilt and make it Fort Worth-ified! Our Fort Worth Album will include a yellow rose, the Fort Worth skyline, panther, boot, and many more motifs that represent Fort Worth. Details about the color scheme and the charity quilt can be found here.
After the business of the meeting, Jeanne and Laura put on their own comedy show..I mean showcased and gave tips using online sewing/crafting resources. Websites and services included Craftsy, Skillshare, Youtube, Brit+Co, Creativebug, and the MQG website! Tips were given to maximize each one, the pros/cons and what features you had to pay for (either subscription or per class) and what you could use for free. It was a great interactive lesson with lots of insight from members on their favorite features and instructors.
As always before everyone can go home (or to Tom Thumb to continue socializing with quilty friends) we have to oooh and ahhh over our member's latest makes with Show and Share! This meeting did not disappoint! We also encouraged members to bring in their quilts that they entered into the festival and it was awesome to see them all again!