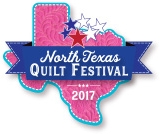 We are so happy to be able to participate in the North Texas Quilt Festival held in conjunction with the Original Sewing and Quilt Expo August 24-26th at the Arlington Convention Center. This is our first quilt show as a guild and we couldn't be more excited! We will need volunteers to make this a success, so block that weekend on your calendars! We know you'll be attending anyway!
In addition to the the Quilt Show, there will shopping and classes. More information on these will be available here closer to the expo date.
Tickets sold at area quilt shops will go towards supporting the guild. Quilt Shops selling our tickets include Stitched with Love, Not Your Mama's Quilt Shop, Fabric Fanatics, and Urban Spools. These tickets are $10 and are discounted from the door price at the expo!
Tickets for Preview night on August 24th are $15 and available now! This will be a reception to view the quilts, win a sewing machine, and features speaker Meg Cox!
We will have a mini quilt auction, so get to working on something spectacular measuring 24″ x 24″ maximum! Mini Quilts are due August 1st, so bring them to July meeting!! Before turning in, fill out the form to enter your mini: http://qgoa.org/ntqfforms/ and receive a confirmation email.
---
FREQUENTLY ASKED QUESTIONS
An explanation about the North Texas Quilt Festival:
Last spring several representatives from different north Texas guilds met with the intention to begin discussions and plans to hold an area-wide joint quilt show. Each guild has experienced problems with their current quilt shows – lower attendance, vendors not available, sites getting more expensive and getting enough volunteers to plan and run the shows. Our first task was to find a site for a show. Two of the representatives went to the Arlington Convention And Visitors Bureau to look at the facility and determine its feasibility. While there, it was mentioned that F&W had booked the Original Sewing and Quilt Expo at the Arlington Convention Center. We contacted the F&W and the discussion began about having a quilt show during their Expo. From the beginning it has been a very positive relationship! They were excited to entertain the idea of a quilt show to enhance their expo and we were very excited to have our show linked with such a large event. They have plans for a very large number of vendors, teachers, classes, speakers and special exhibits! Many of these are what we always wanted to offer at our quilt shows but lacked the space, enough attendees and money to accomplish!
Most importantly –
1 – We asked to be part of their event. An event that was scheduled already!
2- F&W is being extremely generous in allowing the guilds to hold our show at the convention center. 3- They are providing fund raising opportunities for the guilds during this event. Money that they would have earned, without our participation.
4- F&W will benefit in this collaboration if we can help generate area wide interest and increased attendance. There have been many questions about the show and how it will impact our guilds. Hope the following questions and answers provides you with information about the NTQF.
Quilt Entry costs $25? Why?
Why is our guild not getting more money from this venture?
First – We approached F&W to organize a show to coincide with their Original Sewing and Quilting Expo. F&W is supporting the show very generously by providing the venue, vendors, professional pole and drape, programs, judges, ribbons and all online registrations and handling all the money for entries and the special speaker and preview night. We are extra work for them for an event that was planned to be held in Arlington in 2017. Our festival is special for them because they hope it will create more interest and draw more attendees than their expo alone. The cost of the pole and drape, judges and ribbons is way more than the $25 entry fee. We need to charge it to help cover the costs of a quilt festival that F&W is allowing to hold at their event. There is NO CHARGE of fees being paid by the guilds to hold the show at the convention center. We are not being charged for the facility. We are not going through many hours of contacting and arranging vendors and teachers for the show. We are not spending many hours to produce the program and get money from local shops to support the program. We are not spending hours to collect prize monies from shops. If you have ever been on a quilt show committee you are very aware of the saving of time and energy for every guild member this represents!
How do I enter a quilt in the show?
Quilt Entry submissions will begin February 1, 2017 and are due May 1, 2017.
All quilt entries will be done through the Original Sewing and Quilt Expo website here:
https://www.sewingexpo.com/Events/Arlington,TX/NTQFEntryForm.aspx
Rules and Categories to enter are here:
http://sewingexpo.com/Portals/0/PDFs/DIV_CATEGORYInstructions.pdf
There will be information about the expo including links for quilt entry, volunteer opportunities, Keynote Speaker and Awards Ceremony and class registration here:
http://www.sewingexpo.com/Events/Arlington,TX.aspx
It will be too expensive for visitors!
Shows are expensive to organize and run. The convention center is tens of thousands of dollars for the facility fees! The money earned by F&W to organize the Expo is obtained by the fees paid by the vendors and the admission and class fees. F&W is the corporate holder of this professional business to put on Expos in various cities in the country. For an entire day of viewing the beautiful quilts, vendors, classes and speakers it not really that expensive! Plus visitors may save money by purchasing a pre-sale ticket through one of the local quilt shops or guild members! Guild members and visitors may volunteer to assist during the show and expo and obtain free admission while there for the rest of the day!
Why do we need to pay for parking?
The Arlington Convention Center runs the parking lot and determines the fees. If you go with three people in your vehicle then the driver gets into the show for free. When purchasing your ticket onsite for daily admission, you inform them that you carpooled and the driver gets their ticket free! That is the saving of $15 for a daily admission!
Why do this just to profit F&W?
The North Texas Quilt Festival is our quilt festival and the quilt festival for the other participating guilds! F&W is supporting the show very generously by providing the venue, vendors, professional pole and drape, programs, judges, ribbons and all online registrations and handling all the money for entries and the special preview night. Please re-read that! They are providing all of that! We are to supply the quilts for the festival and volunteers to run the Quilt Festival and assist at the Expo. Operating expenses for the festival are way more than the $25 entry fee.
Will there be prizes given for the winning ribbons?
Yes, details and amounts have not yet been determined but F&W is working with some of the large national vendors that will be at the show to sponsor the monetary prizes!
Are there going to be special ribbons and awards?
Yes, there will be special Merit Awards for Hand and Machine Quilting, Judge's Choice, and Viewer's Choice Awards. Each guild will also be able to hang one ribbon that is a special and unique award for their guild.
How does our guild earn money for guild functions & programs?
Each guild will have several opportunities for fund raising for guild functions and programs!
1 – We will be able to sell daily admission tickets for the Expo & NTQF. We also will have several quilt shops that will have tickets for sale that each guild will manage. Each participating guild will have different assigned quilt shops.
2- Preview Night & Keynote Speaker – the profits from this event will be distributed to the participating guilds by a formula based upon guild membership.
3- Quilts for sale – Quilts donated by guild members will be sold at the Expo and 100% of the proceeds will go to the designated guild.
4- Miniature Quilts for sale and live auction – Miniature quilts donated by guild members will be sold at the Expo and 100% of the proceeds will go to the designated guild. These will be sold via silent auction, 'buy it now', and live auction each day!
5-Guild Booth & Raffle Quilt – Any profits made from sales at the booth generate funds for our guild.
Why donate quilts for sale?
Bed size to crib, table runners to placemats all will be sold in a booth and the proceeds will go 100% to the guild designated by the donator! This will be a great money making deal for each guild. Remember our guild is a charity 501- 3C and we can use these funds to support our guild speaker programs! There is a form you need to fill out, which will be on the guild website. List your name, guild and suggest price. If the quilt does not sell, you may ask to get it back (note that on the form).
How are the miniature quilts going to be sold and auctioned?
Miniature quilts  will all be sold in a two-step process. The quilts will be divided into three groups so that one group will be available each day of the Festival. First they will be displayed for silent auction bids plus offered for 'buy it now'. Second they will be auctioned live during the festival, to increase the bids offered. If no one bids higher than the silent auction bid, it will go for that amount. All proceeds, 100% of the money for each quilt, will go to the guild designated by the donator. If it is designated for Susan G Komen then 100% of the money will go to the SGK Foundation, which is the group designated by QGOA (Quilters' Guild of Arlington) for their minature quilt funds to be sent. You will need to fill out a form so that your quilt winnings will be sent to your guild.
What expenses will our guild have for this show?
There will be very little anticipated expenses for the NTQF for our guild. Expenses last year for several of the particiating guilds varied from $6000 to over $20,000.
Our budget for this show is $200 for expenses. F&W is providing the facility for the NTQF – (about $50,000), professional pole and drape (about $4,000), judges (about $1500) and ribbons (about $800). Plus they are arranging and providing the vendors, keynote speaker and programs.
Can I enter quilts as a member of each guild that I am a member?
No, you may only enter quilts in the primary guild you state on the registration form.
If my guild entry slots are full, can I enter a quilt in my other member guild?
We will try to have updates for entries so that before you submit an entry you may know if the slots are all filled. But, you may only enter as a member in the guild you state on the registration form. When you enter your quilt you will need to state if it is your #1, #2, or #3 quilt. If another guild, maybe your 'other guild', has spaces open at the deadline, then quilts will be accepted by order of submission. So there are still other opportunities for quilt entries. Each entrant may enter up to 3 quilts, no more than 2 per category.  We need to see how this process works for this first joint show. Each guild will have the same percentage of quilt entry spaces based on the number of guild members.
How many quilts will be allowed for each guild for entries?
Each guild will have a different number of quilt entry slots that is based on their guild membership. FWMQG will have 24 slots for quilt our guild can enter. Again, we need to see how our first joint quilt festival works and evaluate for future shows!
What about the pre sale of show tickets?
F & W has offered each guild a way to sell tickets to the show. FWMQG has the opportunity to sell
60 tickets at $10, with 100% percent of those funds ($600) coming directly to our guild. FWMQG has requested 75 tickets that will be sold at $10, with half of these funds  ($375) coming to the guild. We will have several shops selling tickets for us (like the shops who sell tickets for the Dallas Quilt Show).
We can request more tickets if the members and shops selling tickets for our benefit find that there is a demand for them.  Again, more tickets sold benefits FWMQG directly!
How do I enter?
 You will enter your quilts and a photo of each entry online at –
https://sewingexpo.com/Events/Arlington,TX/NTQFEntryForm.aspx
To help you decide which category your quilt should be entered in, visit the Divisions and Categories info at  the link below. This document will also give you Quilt Entry Instructions. Please read these documents carefully before you enter your quilt.
http://sewingexpo.com/Portals/0/PDFs/DIV_CATEGORYInstructions.pdf
Jenn Haxton, Jeanne Lobsinger and Rhonda Weddle will be glad to answer any questions you have.
Please help us support this one of a kind show! Your support will help us raise fund for our guild, supporting speakers and education for our members.