May Recap
We started this meeting focusing on all of the awesome charity work our guild does!
So far to date the following charity projects have been turned in:
Tote bags for SafeHaven: 10
Nap Mats for SafeHaven: 4
Pillowcases for ACH: 5
Pillowcases for Cook's: 45 (Wow!!)
Quilts for Peace Blocks: 6
Chris showed several nap mats she made and explained fabrics needed for pillowcases for boys over 10 years old. These types of fabric are particularly needed and can be found at the link for Cook Children's under our Charity Projects tab.
Our guest for the evening was Barbara Reese from SafeHaven of Tarrant County. She had some great information on the history of SafeHaven and the huge impact this organization has on Fort Worth and Arlington.
A few of those amazing statistics from 2016 include:
SafeHaven received 19,177 calls to their 24 hour Crisis Hotline
1,241 women and 320 children received counseling services for a total of 9,111 hours.
128 women received free legal representation and 591 received legal advocacy and advice
1,698 individuals found safety in a SafeHaven shelter including 734 women and 964 children
All of these people helped at zero cost to the domestic abuse survivors. Domestic Abuse is unfortunately a problem in Tarrant County and nationwide, we are proud to help and donate our time to this cause. If you would like more information on what Ms. Reese presented, please visit safehaventc.org.
Janet also had a membership surprise! She has FWMQG folders for all members to keep their guild related papers in! If you missed meeting, she has one for you at next meeting.
We had an update on the progress of the North Texas Quilt Festival. A total of 355 quilts have been entered. Our guild was the only one to exceed our allotment by 125% AND all online entries were done correctly! Way to go FWMQG!! We are also selling tickets for $10 that can be bought at meeting or one of the following stores: Stitched with Love, Not Your Mama's Quilt Shop, Fabric Fanatics, and Urban Spools. Other stores are selling tickets, but these stores directly benefit FWMQG.
We had a discussion of possibly having all day Sewcial Days at Celebration Community Church. This was the venue we used for Libs Elliot's Workshop and it was a smashing success! This would require a small donation to attend as the venue is $50 for the whole day. If you are interested in this and you weren't at meeting, please let us know!
Our final program was a round of quilty games made by Jenn! We played a great game of jeopardy with everyone who answered correctly going home with thread spools! After Jeopardy we had a game of Price Is Right with the guild finances. For each question the audience called out "Higher or Lower" with surprising results! We spend quite a bit to bring in guests and speakers!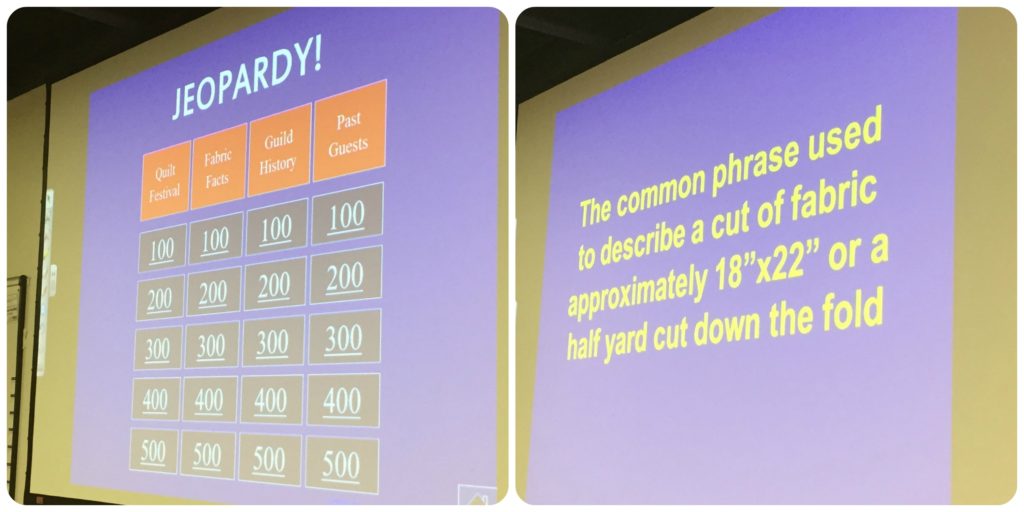 After Quilty Games, we had our BOM and Show & Share with some amazing talent!
We hope to see you at our June meeting! Don't forget your latest project to show us!