January Recap
January Meeting
The New Year is here and we hit the ground running in 2017! The new board was introduced and we kicked off the year with a ton of announcements!
Announcements made at January Meeting:
If you haven't paid dues, do so as soon as you can and fill out the membership form!
We will start a Volunteer recogntion program that will start at the February meeting. We will also getting membership cards and name tags. Big upgrade!
Our charity partner for 2017 is Safe Haven of Tarrant County. They request nap mats be 19″ x 44″. They also request tote bags for the moms. We will also continue making pillow cases for Cook Children's Hospital. Try to choose fabrics a child will like, since the kids get to pick their pillow case.
We are looking for places to hold retreats. Keep your ear to the ground and shoot us an email if you have a suggestion we should know about!
February Meeting activity will be making Scandinavian Fabric Stars. Come to meeting with 4 scrappy strips measuring 12″ x 3 1/4″. Iron the strips so they are like double fold bias tape (Press in half, then fold the edges into the center and iron again). More information here: https://craftingarainbow.wordpress.com/2015/12/06/scandinavian-fabric-stars/
We will also continue "Quilts for Peace" and continue making heart blocks. If you have spare time, make a few blocks and bring them to meeting. Instructions here: http://cluckclucksew.com/2015/01/making-heart-blocks-in-multiple-sizes.html
March Meeting will be on How to Enter Quilt Shows by Heather Pregger. Just in time to enter for QuiltFest in August!
April Meeting will be on FRIDAY April, 28th and will feature Libs Elliott! Her workshop will be on Saturday, April 29th.
Reminder that the North Texas Quilt Festival will be August 24-26, 2017. Entry deadline is May 1, 2017.
Our 2017 QuiltCon Charity quilt top was revealed and Donna Atkins volunteered to quilt it for us! Thanks to a wonderful design from Jenn and countless hours of work from our members, we really have a winner. Aptly named Cowtown Cosmos!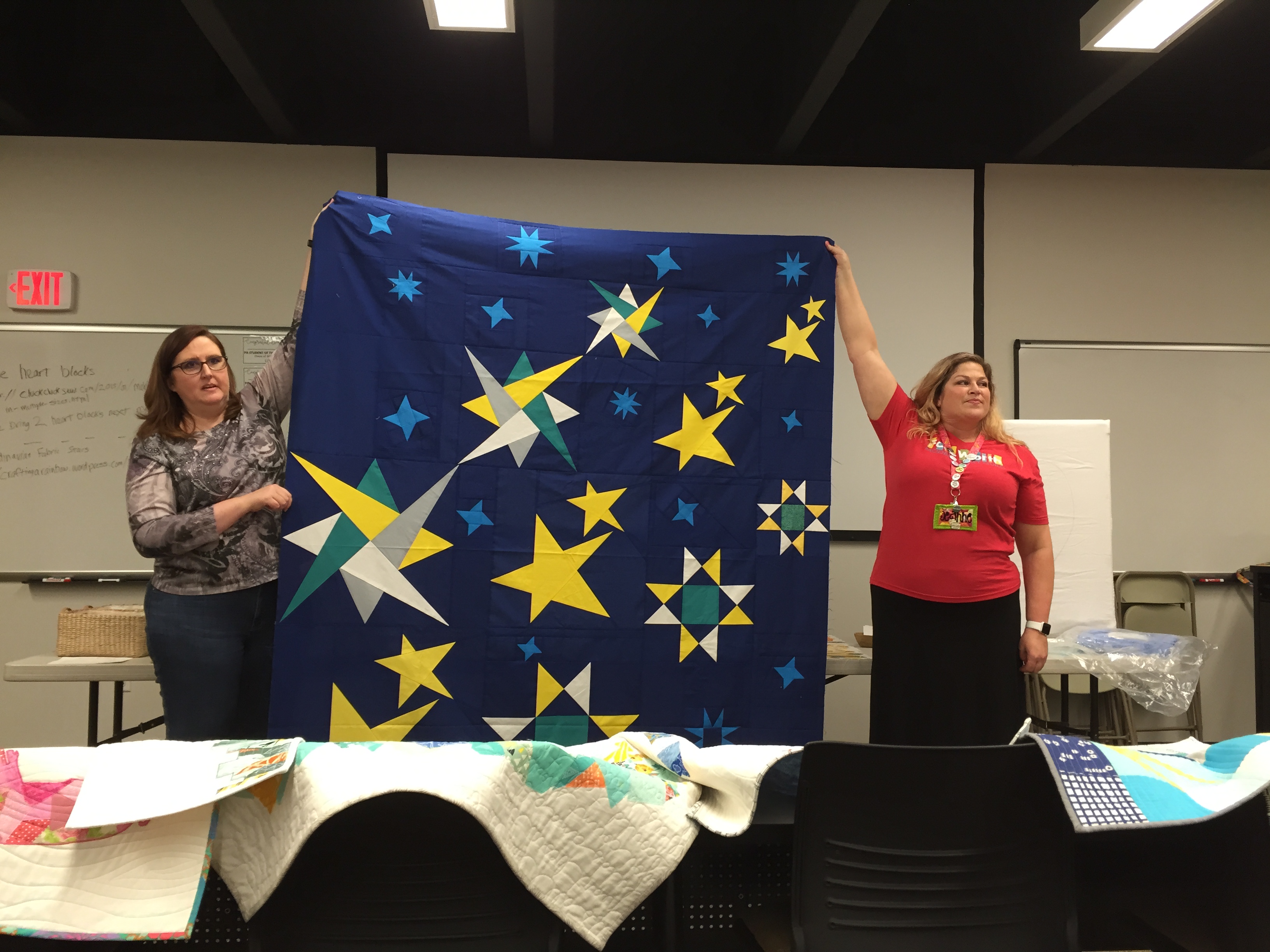 Now that the business is done, Rhonda introduced our guest speaker, Shannon Brinkley. She had a really informative lecture on her scrappy applique technique and a trunk show showcasing her work.

Our members showed off their Vintage Quilt Revival BOM blocks. Not too late to join in! All blocks are out of the book Vintage Quilt Revival!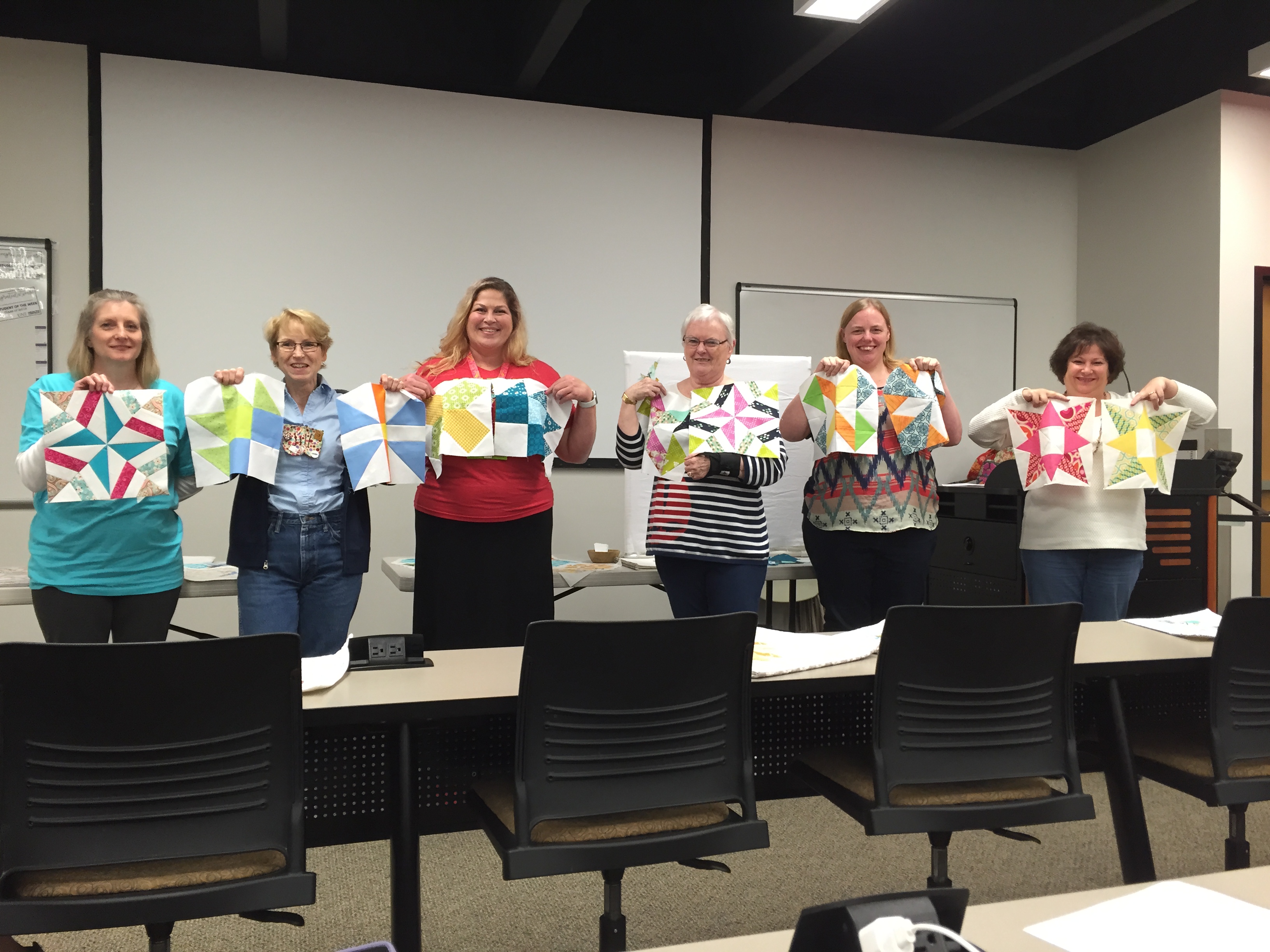 Next up was show and share. There was quite a bit to show off! Our members have been hard at work!


Finally, Lazara and Janet presented the end results of our 2016 QuiltCon Charity Quilt Raffle. They let us know some fun statistics from the quilt's travels to all the different events before announcing the raffle quilt profited a whopping $1,912! Half will be donated to UNT Health Science Center for Alzheimer's Research and half will be donated to FWMQG. A winner was drawn, but they did not answer our phone call during meeting. Stay tuned for a picture with the raffle winner!
Here are a few of the entertaining statistics about the quilt's travels:
21 events total: 6 at quilt stores, 5 at guilds (besides ours), 5 outdoors, 5 at miscellaneous places
"Fanciest" venue award goes to the Fort Worth Community Arts Center! Men in suits and ladies in cocktail dresses
Most money raised at a single venue award goes to the Central High School Craft Fair with $162!
Total number of event staffing hours: about 100 (not including set up/take down, wrestling with the display frame, driving, tracking all the money, promoting, wrangling volunteers, etc. Yes a very conservative estimate!)
Number of windstorms survived by the quilt and volunteers: 1 Thanks to four 20 lb kitty litter containers that held down the frame and canopy nothing came to harm!
Quilt frames that perished in the effort of raffling the quilt: 1. Jenn Haxton donated the frame that eventually met its demise after many travels and events. Mortally wounded in the windstorm of 2016.
Other Happenings
We had a wonderful workshop with Shannon Brinkley and a great first Saturday Sewcial of the year! We have combined Slow Stitch and the Sewcials together and they will now be held at Cabbage Rose Quilting! They were even generous enough to have door prizes!
Here are a few pictures and be sure to follow our Instagram and Facebook accounts for more pictures and events.