FWMQG September 2016 Meeting Recap
I would like to say thank you guild members for making our new sign in table as smooth as possible. It makes it easier to find all of the board members to ask questions, pay dues and just say hi. I like seeing all your faces too, it helps me remember your names. We had sign in, sign up, pillow swap pick up and bee block drop off, all in one place.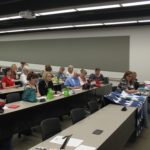 We had 27 members show up, two of those signed up as new members, and one guest. We now have 56 members and hope to keep growing and improving for you.
One way to help members get to know each other is using Ice Breakers, but because we like to throw things in our guild, Ball Toss Questions. Ann brought a soft foam ball to the meeting with all kinds of questions. After passing the ball around to everyone, you really get a sense of who really loves quilting. My favorite question was, "Would you give up quilting for $25,000?"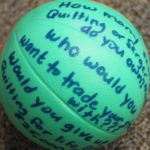 Ann updated us on #quiltsforpeace. The three guilds involved will be handing out quilts to Dallas Police Department on Thursday, September 22, 2016.
Lazara asked for help with the "Modern View of the Trinity" Charity Quilt. If anyone has any ideas on how to get the news out there, please let her know. We also have raffle tickets you can take and sell, if you want to, or better yet, buy and get your name in the drawing for the beautiful quilt.
Jenn Haxton showed us many ideas she designed on her EQ7 for the 2017 QuiltCon Charity quilt. We voted and picked a nice layout that should make us proud!
Our program was the board members sharing their favorite modern fabric designers, pattern designers, authors and quilters who post alot on Instagram.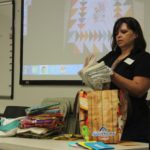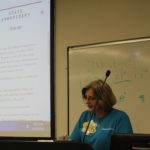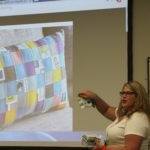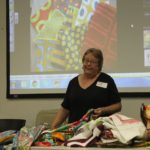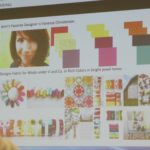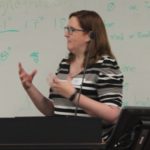 Ann picked Alison Glass as her favorite designer and then showed us every line she has ever produced that Ann has stashed away. Lots of drooling going on.
Chris picked Nydia Kehnle which tied into Ann's program. This was very interesting because some had not heard of her.
Jeanne chose Heather Givans because she thinks she is the bomb. She loves her fabric and has made a skirt out of the cactus fabric along with a succulent wall hanging.
Rhonda chose Malka Dubrawsky. And showed us her beautiful fabric, five yards of which she is not ready to cut into because it is so pretty. Many had ideas for her which included making quilts for us.
Jenn featured Vanessa Christenson. Who doesn't love this designer. The colors or her fabric scream modern. Her patterns are so fun and easy to follow. And she is constantly coming out with new designs and fabrics.
We would like to thank our favorite designers for their hard work and helping us out with bios and giveaways. You can click on any of the designers to learn more about them.
Our Medallion challenge is only three months away and the tops are getting bigger with every border.
Ann showed us that her knee is finally healing enough to sew and she has caught up. 
 Laurie is still adding to her beautiful medallion and she shocked us all by telling us that she was going to use it as a backing. Either way, it will be beautiful.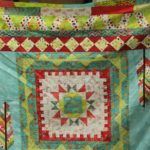 Karen showed us it is never too late to get started on a medallion with her tree center.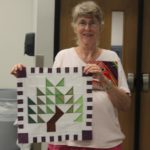 Finally, Jeanne is almost done with her Aviatrix Medallion Quilt. One more border and it will be finished!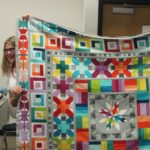 SHOW AND SHARE – ALWAYS SEEMS TO BE THE FAVORITE PART OF OUR MEETING (It may have something to do with the amount of talent we have!)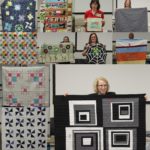 Top row left to right – Ann's 2014 BOM Finish, Chris' Texas Row by Row, Donna's Mini Quilt, Allee's Horse Nap Mat
Second Row – Jenn Nevitt's Modern Patchwork Holiday Issue Quilt, Shelly's Circle Flowers, Jenn Haxton's Spider Web and Adrain's – Princess Madeline Quilt
Jenn Nevitt's Pink and Blue Quilt, Devanie Fergus' Pinwheel Quilt and Jill's Modern Wonky Log Cabin Quilt
Great job quilters!
We did make some announcements that need to be mentioned again.
Nap Mats – The kids really need them. If everyone in our guild made one more, we would reach our goal of 100 and with all the other community service we have done this year, what a great way to end our year.
Pillow Cases – Since we met our goal of pillow cases for ACH, we heard that Cook's Children Hospital needed special pillow cases made. Here is the link for a special size for their little kids. They prefer more kid friendly fabrics.
October meeting will be the amazing quilter, Melissa Eubanks of My Fabric Relish. She will be teaching a class on one of her patterns at Sew Fabricated on the following Saturday. Please let Rhonda know if you want to attend.
September 22 we will be handing out the #quiltsforpeace quilts to the Dallas Police Department. We will gather in the lobby at 2:45 of the DPD.
Monday, September 26th is usually a Monday night Sewcial. It has had a very low turn out. We decided to make it an RSVP. If you know you want to go, please let us know via Facebook by Sunday so we can make plans to get there by 5:00.
Everyone should have their fat quarter from their pillow swap partners. Take that fat quarter and and your fabric to it to make your partner something fabulous. You can stalk them on Facebook, Instagram or just ask someone who knows them, to know what they like. I have seen people put on their Instagram account hints about what they like. It will be due at our December meeting.
We are in the process of moving everything from our Blogspot account over to our very own website. Please be patient while we figure this out. For now it is looking a little bare but we will make it so pretty that you will want to check the blog everyday!