FWMQG November 2016 Meeting Recap
November's meeting was a full one. We had four guests visiting us. It's always nice to meet new quilters. We are growing as a guild with 55 members. It seems like most of you were there last night, the room was so full.
Jenn Haxton discussed the 2017 QuiltCon Charity quilt progress. Quite a few of you turned in the blocks you committed to make. We still have a few out there. They need to be turned in by December's meeting. If you can't get there, please make arrangements to get them to one of the board members. We will meet you to pick it up if need be. The quilt will be assembled next month so we can send it off to The Modern Quilt Guild. Thank you for your help in bringing this quilt together.
Jenn has also been busy with organizing sales of the new T-shirts. She will be putting in the order next week, so if you did not get an order in, please do. They are pretty.
Lazara and Janet updated us on raffle sales for the 2016 QuiltCon Charity. They have been very busy every week at different events. Janet has been to every event and will continue until January. Then she will probably go on a very long vacation. Saturday night, Janet and Jeanne will be at the Fort Worth Food Park with the quilt. Come out and see what's going on.
The end of year holiday party will be Thursday, December 15, 2016. For the party we are asking that you bring a sweet or savory item. Paper products and drinks will be provided. If you care to participate in a White Elephant gift exchange, please bring a 4″ x 4″ coaster. It can be Christmas themed or whatever fabric you want. We know how busy everyone is around this time of year, so we really just want you to enjoy yourself and visit with your fellow quilters. It will be a great way to get to know each other.
We will have a little bit of business. 2017 Fort Worth Modern Quilt Guild Board nominations will be held. So far the following have been nominated or volunteered to run: Jeanne Lobsinger – President, Lazara Abernathy – VP Membership, Rhonda Weddle – VP Programs, Laura Wheelis – VP Communications, Jenn Haxton – Treasurer and Chris Atwell – Secretary. The nominations will be open until December 10th, so if you want to run for any of the positions, please contact the current board and put your name in the hat!
Rhonda told the good news about Shannon Brinkley coming to the guild in January. Please see this post to get all the news about her lecture and workshop.
We also found out that our guild will be participating in the North Texas Quilt Festival August 24-26, 2017. Rhonda and Jenn Haxton are on the committee and will be updating us as news comes in. This is the first time a modern quilt guild has been in the festival. This will be a good opportunity for our guild.
We had the privilege of having Martha Sheriff of Madcow Creationz (and Jenn Haxton's mama) come speak to us about color theory.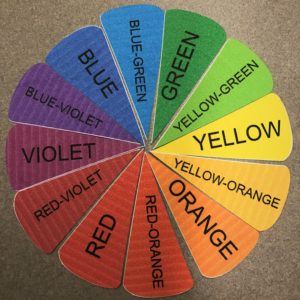 Hope to see you at the next meeting in December.