Detailed Directions to Meeting Location:
The address for meeting, 3500 Camp Bowie Blvd, is the whole block with lots of buildings, so it gets confusing for some!
At the corner of Camp Bowie Blvd and Clifton Street (directly across from the Amon Carter Museum entrance) is a large parking lot. Coming from Camp Bowie, the parking lot entrance will be to your left.
As you enter, there will be a guard shack. No need to stop (there's a sign that says so) there's never anyone in it. Additionally, the lot says faculty, but we are allowed to park here (just don't park in a reserved spot). The parking lot is sloped so you are driving up hill. As you pass the guard shack facing the building at the top of the hill, in the far left corner of the lot is the entrance of the EAD building, that is where you'll enter. Unless there is an event, usually the rows at the top of the lot nearest the building doors have plenty of spaces.
Once you enter the building, you'll actually be on the second floor and it is an atrium looking down onto the first floor. Please note: UNT locks the first floor doors very early in the evening, so don't try and enter that way. Directly across the atrium is the elevator bank. Go up to the 5th floor (almost there!) and remember to come back to the 2nd floor when you leave! Walking out of the elevator, turn to the left again and you'll see lots of tables and our welcome/sign in table set up outside room 506. You made it!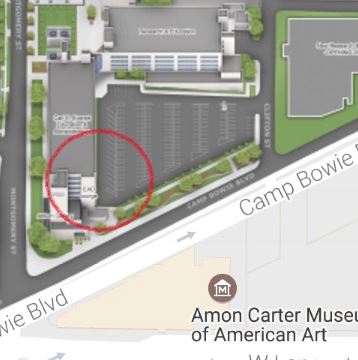 If you have any questions or comments, we would love to hear from you!
Address:
PO Box 121781
Fort Worth, TX 76121
Email: fortworthmqg@gmail.com
Facebook: https://www.facebook.com/FWMQG/
Instagram: https://www.instagram.com/fortworthmqg/
Meeting time and location: We meet the third Thursday of each month at UNT Health Science Center, EAD Building, Room 506, located at 3500 Camp Bowie Blvd., Fort Worth, Texas.
Sign in and social time starts at 6:30 pm. Meeting starts at 7:00 pm.